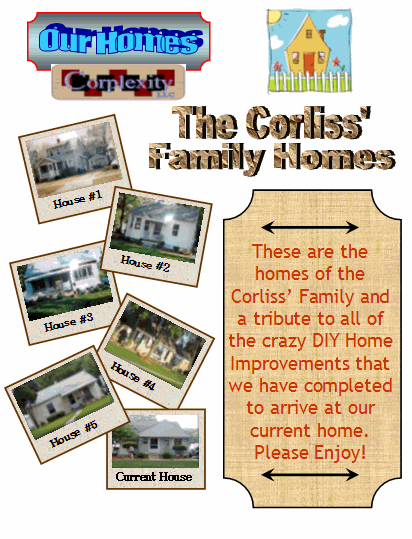 Dalby Street
Redford, Michigan
This is a 1929 2 story farm house. My first wife Angie and myself bought this home id 1988. This is the home that we had our son, Christopher in. He was born January 30, 1989. At this time I was only 23 years old and the only experience that I had working on any homes were when I was growing up I helped out at home on some small projects. The whole home improvement thing was brand new to be and the beginning of a love of renovating houses started. I had been interested in real estate sense I had first seen real estate infomercials on television back in the early 1980's.
With this home being so old and not in very good shape when we moved in I had to learn quick. With-in the first few months of living here I had to replace all of the old galvanized plumbing pipe because they were all completed filled with rust. I had to install a new furnace, a new hot water tank, a new bathroom vanity and replace the tiny shower unit in the bathroom.
Unfortunately my stay in this home only lasted about 2 ½ years because of the break up of my first marriage. So I took my growing tool box and increased knowledge of home improvement and moved into my second home.
(No additional Pictures for home #1)

Shaley Street
Westland , Michigan
This is a 1953 small 2 bedroom single story home with no basement and only a 1 car garage. The home did have an attach 1 bedroom apartment off of the back of the home. I moved in here in 1991 and continued to live here for about 5 years.
I lived in this home with a room mate that I worked with. This home had been a rental previously and was not in good shape. The first thing that I had to complete was a new roof and a major cleaning. This home had the original on site build kitchen cabinets that were falling apart. At this time I did not had money to replace the cabinets so using some newly acquired DIY knowledge I build all new face frames and doors out of some nice birch plywood. I constructed a nice eating bar in the kitchen also. I replaced the tile floor in the kitchen and bathroom, I installed a new bathroom vanity and replaced all of the old stink drains. Lots of paint work, having to cover up old ugly paneling on the walls. A bit of landscape clean-up and new planting and we had ourselves a nice little home for a few years.
 I meet my beautiful current wife, Michelle, in 1995 and she moved in with me and my room mate for a few months while we were looking for a new home of our own. With the help of some family financing and the outlook for a lot more DIY we dove into our next home and project.
(No additional Pictures for home #2)

Brady Street
Redford , Michigan
This is a 1961 3 bedroom bungalow with a full basement, a 2½ car detached garage, and a finished upstairs bedroom space. This was our first taste of real DIY home improvement across the entire home. Every room was completely redone.
Though this home was formally owned by a Redford police officer and his family and was in generally good condition we just could not leave good enough alone; and the DIY bug was nipping at our heals.
With in about 2 months of living here we decided one day to rip apart the kitchen and completely redo everything. Not a good idea for a couple with very limited experience and no pre-planning. But rip it apart is just what we did. As you can see in the pictures below all of the walls were removed and replace, the ugly old drop ceiling was replaced, all of the cabinets were saved and painted, new counter tops, sink, faucet, garbage disposal lights, electrical and plumbing were replaced. Michele and me completed most of the work ourselves. I had my brother in law, whom was a carpenter, help me with the building and drywall work.
After completing the kitchen remodel we moved on to experimenting with decorative painting. As you can see in the next few pictures we tried all sorts of different ideas from faux tile to multi-colored faux wall finishes. I would never do many of these again in my own home but the practice helped me learn great skills that I would later be able to use in many clients homes.
We stay at this home for 5 years. Before moving out we had completed a full remodel of the main bathroom, all of the bedrooms, touched up the basement bathroom, remodeled the basement and laundry room and completely re-landscaped the entire yard. We also installed a new furnace, AC, electrical update, and a new roof just months before we moved out. The DIY bug never even had a chance to rest here before we moved on to our next home. Moving was not our intension but My sister called one day and had us come and take a look at this home that was for sale in a great area that was close to where she lived. We loved at the home, feel in love and sold our newly renovated home in less then 3 days. So on the home #4 with even more extensive renovations awaiting.

Berwick Street
Livonia , Michigan
This is a 1965 3 bedroom ranch with no basement. A 1 car attached garage. We did have to give up some storage space in this home by having a smaller garage and no basement but the home was in a much better area with lots of potential for great home improvements.
Like our last home this house was a complete renovation. This was the first time that we attempted to re-arrange the layout of the home by moving, adding and subtracting walls.
You can see in the pictures of the home that we opened up walls leading into our family room, kitchen, and new dinning room that use to be the 3rd small bedroom. In this home we completed a full kitchen remodel a complete bathroom gut job. Mold, water damage, and no insulation caused us to rip out everything to the studs in the bathroom. This home was our experiment into ceramic tiling, electrical work, HVAC work, plumbing installations, bathtub installation, and all kinds of other DIY skills to be used in my future as a Home Remodeling contractor.
We moved into this home in 2000 and lived here for 5 years. During this time After 18 years of working for a Video Tape duplication manufacture, our company went out of business and I was out of a job for the first time sense I was 14. After deciding that I had enough of working for other people a friend and myself opened our own home improvement company. We were Two Men and Their Tools. We worked together for only about 1 year and we divided off on our own. I started a new company, Corliss Property Enhancements in 2001 and have served over 300 clients sense then. All of the DIY home improvement skills that I had been using to fix up my own home was now being used to help other people realize the potential in their homes also.
Unfortunately in 2006 we were forced to short sell our home because I was not yet bringing in enough business and the real estate market had started to turn for the worst. We were fortunate enough to have a relative that had a rental home that needed some tender loving care and again we got the opportunity to use our acquired DIY skills to bring great change to a needing home.

Poinciana Street
Redford, Michigan
This is a 1959 2 bedroom tiny ranch home with no basement but did have a 2 ½  car garage. This home we did not actually own ourselves but Michelle's uncle does. We were helping each other out. He giving us a place to live and use supplying and exercising our DIY magic touch.
This had been a rental home more many years and was really showing it. Pride of ownership surly does not seem to mean much to a lot of renters.
This house needed lots of different work. After giving the home a complete bath and new fresh paint on every surface we again like past homes had to replace much of the plumbing because it was original galvanized piping that was clogged. We needed to repair much of the electrical that was tampered with by people that did not have a clue what they were doing. Lots of clean-up and cut back in the landscaping and generally just bringing life and freshness back to a tired old home. We installed new flooring in the kitchen and laundry room, updated all of the kitchen cabinets, build a storage cabinet for the bathroom and updated all of the window covering.
We stayed in this home for 4 years while fixing it up and saving money so we could get back into the home game ourselves. I was also busy trying to build up my business. We lived here from 2006 until 2010. In 2008 we had started to look for a new home for ourselves but we had another set back when Michelle was laid off from here job at an Tier 1 auto supplier. This was when the economy was in full decline. So we stuck it out for 4 full years and saved enough to buy our next home. Here are just a few phots of some work we completed in this home.

Dalby Street
Redford, Michigan
This is a 1962 3 bedroom bungalow with a full basemen, a 1 car detached garage a fully finished basement with a second full bathroom and a finished upstairs bedroom space. This house was a short sale and was a steal of a cost.
What is funny is this house is located just across the street from the very first home that my ex-wife and I owned. (House #1)
This home was also a rental for the last 10 years. Again in this home the renters had damaged much of the home. The previous owners had just send 6 months and thousands of dollars to repair damage and try to get the home rentable again. Fortunately for us because the real estate market was still so bad and the owners had sent so much fixing up the home they got in a position that they had to sell the home. We are able to pick up this home for only $24,800.
Because this house had so much work done when we purchased it, the home was move in ready. We did make some changes before we moving in by adding some additional cabinets in the kitchen, some repainting, new window covering, and general cleaning. We have sense then completed work on a number of different items including starting to re-landscape the yard, adding crown trim, re-working the closet set-ups, interior door transformations, and planning rest of the future work.  Here are a few photos from the home as of now. Below we have also included a detailed list of future work that we will be completing. We will be documenting all of our future work and writing about each and every project as we complete new and exciting DIY home improvement projects. We hope you will continue to follow us and enjoy this Home Makeover information that we share with you.