Proper attic insulation will save you money and ensure a comfortable house
Almost everyone is aware that heat moves, or spreads, from warmer areas to cooler places and also ascends upward. This heat transfer can occur when air moves from indoors to the outside or vice versa. Another way in which heat transfer occurs is through the walls, roof, and windows and exterior doors. In many homes the attic has many air leaks because of ventilation vents.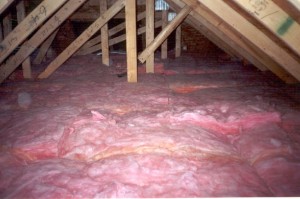 Moreover, while the U.S. Department of Energy recommends that attics have Attic insulation of R value between 40 and 60, many attics are insulated with material that only have a R value of under 20. This leads to a lot of heat transfer out of the attic, leading to loss of heat or ingress of heat into your home. This directly translates into larger energy bills. When considering improved home insulation, you need to first get your attic inspected for air leaks and insufficient insulation.
---
Additional Articles You'll Also Like:
Article: Heating and Cooling Home Energy Waste and How To Save Money
Article: Supplying Your Home With Energy Efficient Hot Water
Article: Solar Power How to – On the Grid or Off?
---
Importance of Air Sealing
Whenever you consider upgrading home attic insulation, you need to first ensure that there are no air leaks. An expert home insulation contractor will use the blower door test to locate air leaks in the space you want to insulate. Once the air leaks are located these have to be sealed. Air sealing  might require the removal of existing insulation. This process is best to complete this before proceeding with the attic insulation upgrade. Air sealing will ensure that conditioned air does not leak out of the house, thereby ensuring that your hard-earned money too stays with you. By air sealing the attic, you will be sealing a leak in your wallet as well. And in this economy, this is absolutely vital.
Types of Home Insulation Products
There are many different types of home insulation products such as spray foam insulation, rigid foam insulation, injection foam, fiberglass bates, blown fiberglass, blown cellulose, and denim batts. Each of these has its own advantages and disadvantages. No single product is the best for all situations. An expert home insulation contractor will be able to assess the insulation needs of your home and recommend appropriate insulation after an energy audit. By following the recommendation of a trusted home insulation contractor, you will be able to obtain the best solution for your home.
For instance, spray foam insulation also provides air sealing. So, your contractor might recommend its use for air sealing the attic of your home. Some other areas of your home, such as the wall cavities, might not require air sealing. The contractor might recommend rigid foam insulation as a less expensive alternative. A competent home insulation contractor will reuse existing insulation material as well as long as it is not wet, moldy, or compressed. This too can reduce the total cost of upgrading your home's insulation.
Correct Installation
Whether you use spray foam, rigid foam insulation, blown cellulose, or fiberglass batt, it is important to ensure that the installation is done correctly. Improper installation can leave voids, or compressed material, which significantly reduces the insulation abilities. By ensuring that a trained technician installs the insulation, you can be sure that you are obtaining the required levels of insulation and this project is completed with precision.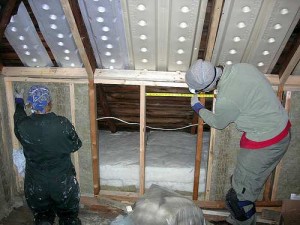 As heat transfers into your home this summer it will strain your air conditioner, taking its toll on your energy bills. This article will give you tips to saving on your energy bills.
Dr. Energy Saver N.E. Illinois provides air sealing in Northbrook, IL. Visit them online to schedule a home energy audit in Northbrook, Buffalo Grove, Glenview, Mundelein, Lake Zurich, Barrington, and other surrounding areas.
By: Jeannie Pate
Help Home Information Guru out by Following Us On: FaceBook, Twitter, & Pintrest
Watch this video about the importance of attic insulation and air sealing: