The comfort of an outdoor room can be created easily with private deck spaces
The problem with decks can often be that they are raised above ground level and therefore make homeowners and family members clearly visible to neighbors. Fences already in place may be too low to provide a practical amount of shielding.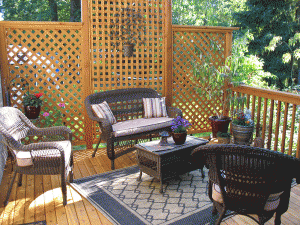 There are alternatives that can be implemented to provide varying measures of privacy to deck occupants:
1. Stepping the deck down in stages can resolve the problem. If the house exit door occupies a lofty position, it would be possible to build a landing and stairs or a series of tiers that lead down to a main deck built low to the ground.
2. A well placed trellis, arbor or pergola that provides the skeleton for climbing plants or vines can be constructed to create an attractive but functional enclosure. Latticework can also be utilized to provide for the growth of those vines and climbing plants and add to privacy possibilities.
---
Additional Articles You'll Also Like:
Article: What You Need To Know About Hardscaping
Article: The Benefits of a Fenced In Back Yard
Article: Top 3 Options for Outdoor Shade
---
3. Planting border trees and shrubs is a simple but practical solution that will help to screen occupants of the deck from neighboring eyes. Hedges can easily be incorporated into the deck perimeter to provide the same sense of enclosure as railings.
4. Fencing is another option. A low existing fence can be topped with an additional section of privacy plus lattice to provide an extra measure of privacy. A new fence can be built but can make the yard seem closed and smaller than it really is. Using the fence as a backdrop for plantings is an ideal way to soften the look of a new fence and make it an integral part of the backyard environment. It is also possible to construct the fence to be open and airy without sacrificing privacy especially in view of the wide variety of materials and styles at the disposal of homeowners. It would be a wise decision to consult local building codes to ensure that the fence complies with local regulations in terms of height, materials and style. At the same time it would also be wise to consult your neighbor regarding your decision to add a fence to the property line that you share.
5. Careful placement of activity areas can work well and be very effective in creating private deck sections. Areas that tend to draw a crowd such as hot tubs or grilling centers would better be placed on one side of the deck while private areas would be situated on the opposite side.
6. Building decks with different levels or by just letting the deck ramble a bit can create distinctive areas that are separate but not walled off. A wraparound deck is especially an ideal structure that easily creates separate areas by the nature of its very shape. One of those areas could easily become that quiet refuge.
7. There are many portable gazebo structures available in a variety of shapes, sizes and accessories. They consist of a metal framework with weather resistant fabric tops. These structures offer privacy plus in comparison to the standard patio umbrella. Some come with fabric panels that can be moved into place like drapes to screen off all or portions of the gazebo enclosure. The ideal gazebo would be one with rustproof metal parts that would last for years to come providing lasting privacy.
The quest for privacy on a deck is one that can be easily achieved through an understanding of the landscape of your property, thoughtful design techniques and a little creative imagination. The result will be a backyard oasis that will provide a refuge away from the hustle and bustle of the outside world and the prying eyes of neighbors. Use these 7 ways to create private deck spaces today for peace, comfort and privacy.
About the Author
Richard Vande Sompel is a professional deck builder of 35 years and over 850
decks built and is the author of "How to Plan, Design and Build a Deck from
Start to Finish". To Discover More About Private
Deck Spaces and Claim your 2
FREE Deck Plans, Insider Report, MP3 Audio and discover everything to know about
building a deck visit:
http://www.DeckBuildingRevealed.com
by: Richard Vande Sompel
Help Out Home Information Guru by Following Us On: FaceBook, Twitter, & Pintrest
Watch this video for more deck privacy ideas: