Don't take a risk with your child's well-being. Use these simplified child proofing ideas today to make your home safe!
Child Proofing does not need to be a burden. Read through this short article and find out how simple it can be.
---
Additional Articles You'll Also Like:
Article: Preparing A Home Emergency Kit
Article: Stay Safe As You Complete Your DIY Projects
Article: Gun Control in the Home: Keeping Kids away from Guns
---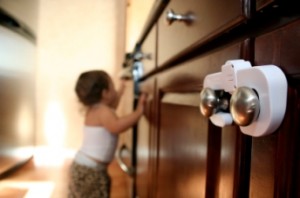 Thousands of preventable injuries happen every year because of parents and caregivers either not taking the time to child proof their homes or not being prepared for possible injuries. I want to take some time and go over some simple child proofing ideas to be prepared for little ones to have a safe environment to play and grow in. This is not just important at your house but any house that your child will be staying at.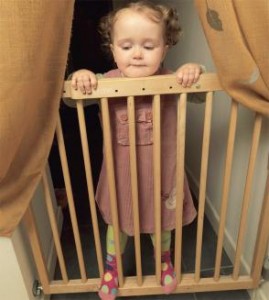 Any of these safety devices that we talk about should be sturdy enough to prevent injury, yet easy for you to operate. Please follow all instruction that come with the products.
Child Proofing 101
Choke Hazards: As adults we take small objects for granted. Yet to a small child or baby all they want to do is put these small items in their mouth. Make sure to go through your house everyday and pick up any small items that could be picked up by your

child

and choked on. This also means that your older children should be taught to always play with and pick up any small toys that are not appropriate for younger children.
Tripping/Falling Hazards

: Safety gates should be installed by all stairways and areas that child should not be in.

Safety netting

should be installed around all stair railings. All power cords should be secured and tucked away to prevent tripping. All items that sit on the floor should be looked at as a potential hazard and evaluated for possible movement to allow areas that are free for small children to room safely.

Bumper guards

can be installed on or around items that can not be moved.

Window guards

and locks should be installed to prevent opening or access. All large furniture that could tip over should be

secured to the wall or floor.
Cabinet and Closet Hazards: Little peoples hands seem to be very curious which can lead to danger or a big mess to clean up. All lower cabinet door and closet doors should have

locks

to prevent lilt hands from getting in. Also items like cleaning products and other poisonous materials should be stored in  areas that are off limits to children.
Burn Hazards: All faucets in your home should be equipped with anti-scald devices. All new bathtub faucets sold in the United States are now preset to a temperature that will prevent scalding. Water heaters should be set no higher then 120 degrees.

Oven and stove top guards

should be installed to prevent burns. Toaster, hairdryer, curling irons and all other heating devises should be used with care in mind for the little hands around you.
Smoke/Fire/Carbon Monoxide Hazards: Smoke/Fire detectors should be installed in every bedroom, in the hallways, near the kitchen, near the furnace, near the hot water heater, and in any area that is separated from rest of the house. Batteries need to be changed every 6 months. Carbon Monoxide detectors should be installed on each level of a home, with one being near any item that uses gas as fuel. Also install on near any door that leads to an attached garage.
Electrical hazards: Make sure any item that is plugged in to a receptacle in out of reach and can not be plodded off of a table or counter. Install

outlet covers

and outlets plates anywhere that nothing is plugged in. make sure all power strips are out of reach of children.
Window Treatments: This is the most overlooked item in the house. Curtains can be tugged on and pulled down by small children. Cords on all blinds and drapes should be securely mounted and not hanging below 36" from the ground.
These are just a few of the hundreds of items to go over regarding child proofing your home and raising happy, healthy, and safe children. Here a a few more tips for child proofing your home.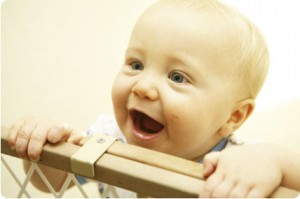 Miscellaneous Child Proofing & Safety Care Tips
When your baby starts to sit up on their own, set the crib mattress on the lowest level to prevent them from climbing out.
Remove crib bumpers as well as mobile or other hanging toys when your baby begins to pull themselves up to a standing position.
Never put stuffed animals or heavy blankets in the crib with your infant.
Don't place the crib by a window, outlet, or light.
Always place your baby on their back to sleep to prevent SIDS.
Never leave your baby/child in the bath tub alone, even for a few seconds.
Keep all hot liquids away from the edge of counter tops, tables, or stoves.
Make sure not to set small objects on the floor where your child could crab them and possibly choke on them.
Use the proper size car seat and make sure it is attached correctly.
Always put your baby in the back seat
 Never leave your baby in the car alone. EVER
Don't use baby walkers. They can cause serious injury. Use stationary exercisers instead.
Don't carry hot liquids when your baby is near you.
Follow your pediatrician's schedule for immunizations and check-ups to keep your baby healthily.
Never smoke around your child. Secondary smoke causes health problems.
Keep in mind that child proofing does not mean trading in your home for a fortress. Children need the freedom to explore and learn from their environment but preventing serious injury can be achieved with out giving up your normal life. Be mindful of little hands and crawling babies.
It is also recommended that all parents and caregivers take a registered children CPR and First Aid class. Ask your doctor for recommendations or call your local Red Cross.
Make sure to use as many of these child proofing tips as possible to ensure a safe environment for all children.
By: Michelle Corliss

Help H.I.G. out by Following Us On: FaceBook, Twitter, & Pintrest