Let us admit. Every one of us would love to have neat,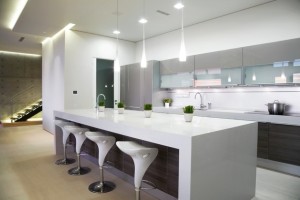 modern and stylish kitchen. But for some, that goal is a bit out of reach. Lack of money, reorganization of the kitchen, even some renovation need to be done, in order to make your plans possible. To avoid this, we will give you several smart advises on how to make your kitchen modern, without splashing the cash, or taking a loan from the bank.
Painting Walls
The first thing you can do is to repaint your walls. Although this will not require a lot of money, you will need a helping hand, in case that you have a lot of furniture to move around. Also, while you are there, you may keep an eye out for any signs of mold, wet stains or other indicators of a burst pipe. If this is the case, you might consider calling a plumber, so this situation can be handled before you proceed with the paint job. As for the color, it depends on what effect you wish to achieve. If you have small kitchen, to make it seem larger, pale colors are advised, for those will create an illusion of illuminated and open space. Of course, the biggest advantage of repainting is that you will refresh walls and cast away any smells left from prolonged period of cooking.
---
Additional Articles You'll Also Like:
Article: Kitchen Remodeling Secrets on the Cheap
Article: Painting Your Ugly Kitchen Cabinets
Article: 5 Ideas to Give Your Kitchen a Fresh Look
---
Painting Cabinets
On this matter, you have several solutions to apply.
You can either paint the entire surface of the cabinet, giving it new life and purpose. Also, you can paint only the internal part of the cabinet, something which is considered to be very trendy and chic. Of course, if you have closed type of the cabinet (those without glass and transparent parts on the covers), you can always remove those, which again, is not much of a fuss, and can be done in several minutes. As for the paint, it would be great to choose a stronger shade, for example dark blue or turquoise, in order to make a contrast with anything you put inside. There is also a third option, which is dependable on style of your kitchen, and that is to wear out paint of your cabinet with a sandpaper, and just apply lacquer over. This procedure will give it old and vintage looks.
Cover Floors
In general, rugs and kitchen are not such a good combination.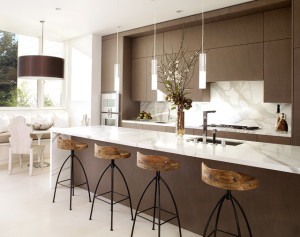 Spills, splashes and stains can ruin your carpet in no time, and in the case that you have a larger kitchen, you can always put a rug down where your table is located. In this way, you will gain an impact created by the rug, and again, it will be saved from dropping food. Just in case, it is recommended to use a rug made of synthetic material, for those are much cheaper, and far easier to clean. Carpets made of wool are a nightmare to get clean, and besides, it can be destroyed in the process.
Introduce Light
The source of light is of great importance for every style and every kitchen, and yet again, people tend to forget about this. To replace an old chandelier, or to install a new one instead of that standard, boring light source you have, is not too much work. A skilled electrician can do it between lunch and dinner, without your involvement. Classy, non-standard chandelier or lampoon will give refined touch, which can go with vintage and eased up approach. On the other hand, if you are minimalistic, strict and sharp oriented, installing recessed led down-lights will accent that style even more, for those lights are giving away pure and white light.
Introduce Art
There are people who will say that art does not belong in the kitchen,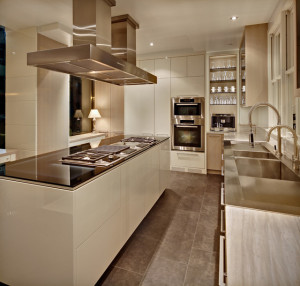 but in fact, the truth is quite the opposite. You must bring in your touch and attitude, and the art is the best vessel for that. Having your favorite picture hanged in there, will make you feel better and invigorated, so you will be able to present your kitchen with pride.
To conclude everything, it is of utmost importance for you to feel good in your kitchen. All of these suggestions above are worthless if you are not satisfied. Keep up with your vision, and do the things your way.
By: Diana Smith

Watch this video about kitchen remodeling on a budget:
Help Out Home Information Guru by Following Us On: FaceBook, Twitter, & Pintrest