No matter if you are redecorating or renovating your home, floors are extremely important and you should pay special attention to them. It makes a huge difference if you are looking for a way to switch to tiles from stone, to stone from wood, or to wood from tiles. Each choice requires different preparation and materials, and in addition, each of these needs special chemicals for cleaning and maintenance. The last thing you need is to ruin your perfect new floor, isn't it? To prevent that from happening, here's everything you need to know about tile and stone floors.
---
Additional Articles You'll Also Like:
Article: Taking Care Of Your Expensive Hardwood Floor
Article: Why Choose a Polished Concrete Floor?
Article: Underfloor Heating Basics For The Eager Beginner
---
Durability
Great thing about tiles is that they can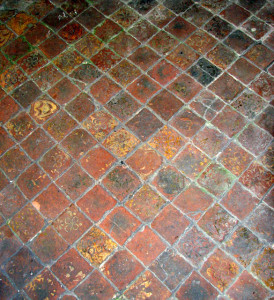 be used on the walls as well as on the floors. However, you should be aware of the fact that wall tiles only have to look good, while floor tiles need to be rather strong and durable in order to stay whole even after many people and furniture passes over them. Look for their labels of talk to someone who understands them: class 2 tiles are good for places with light foot traffic, while Class 3 tiles should be used in areas with heavier foot traffic such as kitchen, where there are stoves and kitchen cabinets to think about at the same time. Stone flooring, on the other hand, will be more durable than any tile because it is not man-made and can withstand greater pressure.
Color
You should choose the color of the tiles depending on the colors which you used in that room.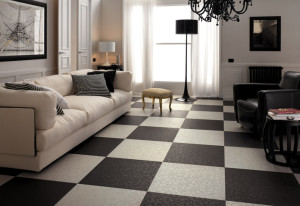 Darker colors don't have to close up the space, but rather add some warmth to it, while light shades will always make the space look bigger and more open. If you use neutral shades and colors, it will allow you to change accessories in the room, for example curtains or floor rugs. If you find it too dull, you can always break the pattern by adding a few statement tiles with different design to your single-colored tiles in the kitchen or the bathroom, it will make the room look cheerful. Tiles offer many more colors to choose from, but stone tiles made of granite and marble are also very popular for its intricate natural patterns.
Size
Of course, it's up to you to choose the shape and size of the tiles for your home. Nevertheless, it might be wise to think about a few things before you make up your mind. Small tiles are the best for small rooms, since these will not look like floor panels and will make the room look a bit more spacious. On the other hand, small tiles in a small room will make it look too crowded, which is why bigger tiles are the best potion. All over Sydney there are places where you can choose great floor tiles for your home, with any texture and shape you desire. Just be careful with smooth tiles, they tend to be rather slippery.
Maintenance
Before you make your final pick, make sure you have calculated the costs of installation and maintenance. When something spills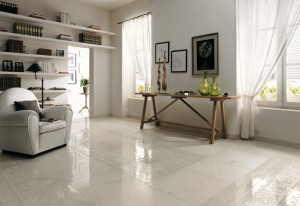 onto your stone floor, don't rub it, but rather blot it only, and don't use any cleaning products unless the label says it is safe to use on stone. It can be damaged easily by strong chemicals, unlike tiles which are very resistant and can be treated with different chemicals without causing any harm. This is the reason why they are so popular in the bathrooms and kitchens. If you want to be sure that your floors will be safe from chemicals, use pH neutral detergents only, these will be the most gentle no matter what materials your floors are made of.
Maybe tile and stone flooring isn't rocket science but it still represents an important part of a household, and you do not have to be one on those meticulous people who pay attention to every detail. If you are careful about everything you do around your household, your home will look great for years and you will not be forced to redecorate it every few years. Think about the options for your tiles and choose the one which is going to make your home look the best. Everything else is less important and can be changed.
By: Diana Smith

Watch this video about how to choose flooring tiles:
Help Out Home Information Guru by Following Us On: FaceBook, Twitter, & Pintrest