Home maintenance ideas for a cold winter
Do you have home problems during cold, rock-splitting winters? Do you fear that your home will get damaged during freezing temperatures? In general, most homes are built to easily sustain low temperatures, but there are some weak points which you should pay attention to, in order to avoid large scale repairs, and potential injuries. These are my tips on how to be ready and prepared, when icy winds start to blow.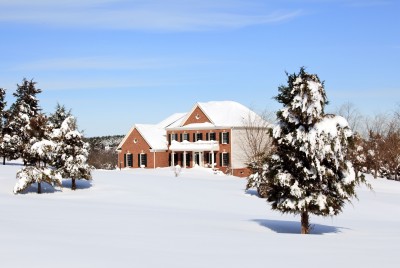 Think in advance
Proper preparation is half the work done. Think in advance, keep a close look at the weather forecast, in order to know when the winter will be really cold. If you live in northern areas of the globe, it is certainty that winter will hit your home hard. Nevertheless, pay a visit to your local store and stock up on some rock salt, which will come in handy for spilling over in front of your home, so potential ice will melt faster and won't stick around long. Sand will also help you in these situations, for it will increase traction, and it is fairly easy to obtain.
---
Additional Articles You'll Also Like:
Article: Wintertime is Coming Insulate Your Home & Save on Heating System Costs
Article: Winter Home Maintenance
Article: Fixing Things Fast Without Becoming Furious: Homeowner Tips
---
Luckily, modern science is there to help you out, and there is huge plethora of ice repellent preparations, which often come in the form of sprays, which could be applied on your stairs and house approaches. Also, while you are at the store, by extra batteries, flashlights, first aid kits, and fuel for lanterns.
You never know how long the winter will last, and what you may find necessary. In addition, if you have a hardware store nearby, pay them a visit, and buy new shovel if needed, and a ice-scraper, for these will make your job much easier. If you have certain conditions, which requires intake of specific medications, obtain a few extra bottles of those as well, just in case.
Extra blankets are great to have, as well as canned food, which is quite convenient, for it doesn't require being stored in a refrigerator, and is very useful, if you find yourself stuck in the snow blizzard.
Outside of the home
First thing to pay attention to, is the water. Any water-powered installation should be drained out, and this includes garden hoses, fountains and pools. Faucets and outer sinks are also potential threats, for the pipes can get frozen and will burst, causing damage and requiring high costs of repairs later. Drain them, and you will be safe from bursting.
Your roof is also weak point, so be sure that you check the condition; ensure that it is strong enough to sustain the weight of snow, especially wet snow. But, don't climb on the roof during winter, do so before and after winter. Also, snow melting blockers are great addition, they can be installed by you, if you are even little keen on manual work.
Windows can be protected with installing plexi-glass blizzard blockers, and this installation will also help preserve heat within house. Gutters will be essential, in order to move water left from snow melting, so be sure that you clean them. When spring comes, extra water will be your concern.
Your garage is something to keep in mind, too, for your car is also prone to frost damage. Check antifreeze level, and from time to time, start the engine and leave it to work for a while, in order for oil and antifreeze to circulate. Tires need to be checked, for lower temperatures will reduce the tire pressure.
Inside the home
Your main concern connected to staying inside the house is to stay warm and cosy. If you have a chimney, it needs to be checked, for birds can make nests within, or in can be a great place for bats to hide. Smoke must pass smooth through the chimney, for harmful carbon-monoxide can severely damage your health and may have even cause a lethal outcome. In addition, enough the stock of fuel is essential, such as wood, or coal, depending what is used.
Also, windows and doors are weak spots, so you need to act accordingly. Putting new caulk around windows will stop drafts from creeping in; doors also can be additionally insulated with various draft stoppers, such as foam or rubber stripes. Just be careful when you are installing them, for if the rubber is twisted, the doors can't be shut tight, and loosing of precious heat is imminent. Moreover, if you own pets, think of them too, for water, food and litter are needed also.
So, if you passed all the home check points in this article, you need not to worry about upcoming winter. Take a few good books, tuck in near the fireplace and make yourself nice cocoa, and enjoy the winter.
By: Damian Wolf

Watch this video for more tips of preparing your home for winter:
Help Out Home Information Guru by Following Us On: FaceBook, Twitter, & Pintrest