Backyard landscaping does not need to cost an arm & a leg to create beauty
If you want your home and its outskirts to be your private dominion but can't afford to hire a professional landscape designer to do an expert number on your backyard, don't despair: there are some convenient and simple ways to decorate your garden on a tight budget without having to sacrifice too much of your time and nerves in the process.
---
Additional Articles You'll Also Like:
Article: How Backyard Landscaping Can Benefit You
Article: Low Cost Landscaping
Article: 5 Must Have Features for a Garden
---
From grim to green: Turn your garden into Eden
It doesn't take extensive landscaping knowledge to turn a shabby plot of land into a Garden of Eden. In fact, all it takes is just a modest budget, lots of good will and some manual labor. There are lots of tested and tried gardening tips on the internet, so do your browsing homework, pick the pots and seeds for flowers and greenery you like best at the local store and start decorating your backyard come first free weekend.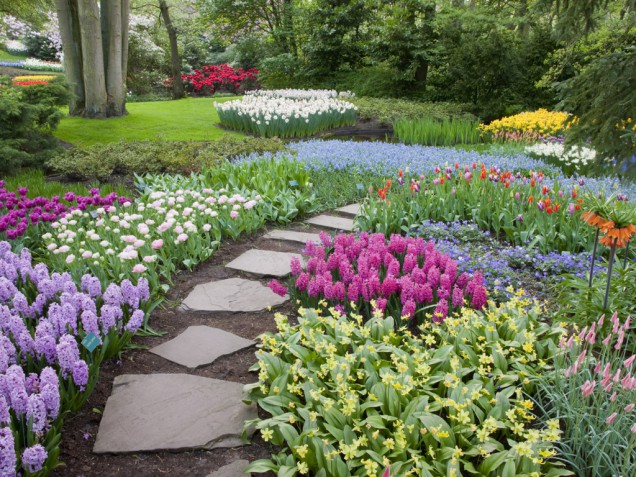 Remember, balance is the key to beauty in your landscaping, so pay attention to sizes, shapes and spatial design when arranging the potted plants and sowing the seeds. With a little tender, love and care and some regular watering and trimming, your garden paradise will soon sprout and bloom in its brilliant colors, rewarding your hard work with abundance of sweet smells and vivid hues.
Throw in some BBQ, fire pit and seats
If you want your backyard landscaping to become a gathering spot for your family and friends, you ought to have some basic seating furniture like benches, outdoor sofas, cocktail tables or fold-able chairs for your guests to plop around. In case you have a few spare planks and nails lying about and some multipurpose tools at hand, you can even build the benches yourself to minimize the costs. Or if you're not exactly a handyman, you can always look for affordable garden furniture online or pick a bargain at yard sales.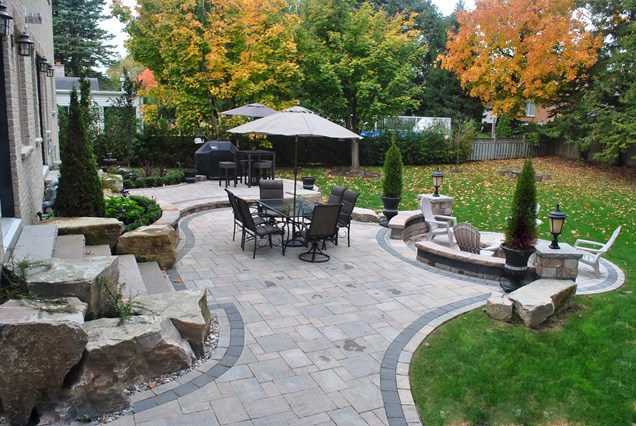 Having an outdoor kitchen is beyond doubt a wonderful idea, but most backyard kitchens cost tons of dough so it's probably best to go about this project gradually. For instance, you can get yourself a portable grill, decorate a barbecue area or put in a small horseshoe fire pit to begin with, and keep upgrading your exterior kitchen as times goes by and more cash flows in.
Shabby patios, and how to upgrade them
Ok, so you have a grungy-looking patio in your backyard but can't afford to have the professionals over for a thorough overhaul.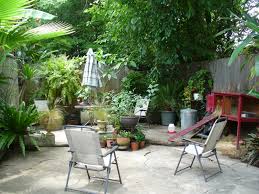 Don't worry: with some careful planning, a bit of tinkering and a dash of internet browsing, you can doll up that deck without breaking the bank. Turn your concrete patio into a functional outdoor space for relaxing and lounging with a little concrete paint, cushions and decorative rugs purchased at the local thrift store. A bit of style goes a long way, so make sure you choose the items for your backyard deck with taste and moderation.
Note that prices of garden furniture tend to drop toward the end of the season so unless you're in dire need, try to shop for patio accessories in autumn and winter to get the best deals. In case you save up some money on chairs, tables, rugs and other props, you can always invest in a set of outdoor drapes, decorative panels, arches trellis or waterproof shade sails to enrich your garden with some style and keep your backyard landscaping safe from excessive sunlight or nosy parkers.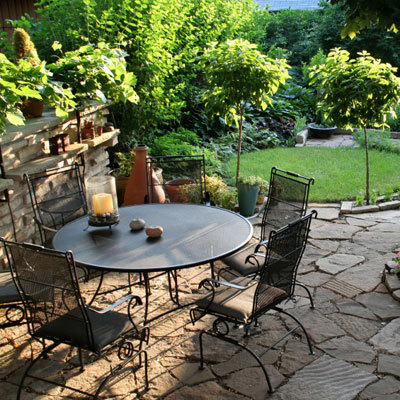 Light up the cheer: DIY lighting
There are a few tricks for those who can't afford high-end lighting props like gnomes, lamp-lit fountains and garden lights. A tastefully arranged handful of LEDs or batter-powered outdoor lamps will create a magical atmosphere in your backyard landscaping without excessively trimming down your wallet. Pick a string of lights in weatherproof shells and an inconspicuous extension cord, then set them all up at the beam of your patio or run them through the supportive poles of the veranda with the help of some nails or screws, a staple gun, adhesive straps or other gear you have in your toolbox.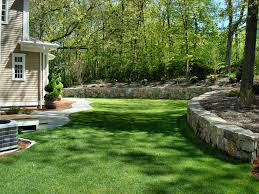 When installing your dinnertime light-show, make sure that the cords, bulbs and other sensitive hardware is well out of rain's way to avoid potential short circuits, burnouts or sudden electricity failures in rainy seasons. Also, you can purchase some low-cost solar path lights at discount stores or dollar shops to doll up your garden – these require no electricity and can be placed wherever you like, and they will certainly make your flower beds and paths look stunning come early evening.
From lights to fire pits, with flowers, shrubs and furniture of your preference, your landscaping will flourish and grow as years go by with just a little planning, continuous effort and some modest investments. Also, a beautifully decorated yard will add a bit of value to your property figures so don't be lazy and don't even try to come up with excuses – all you need to turn your scruffy backyard into a place of wonder is a humble budget, some commitment and a bit of manual labor, and that much you can certainly afford at least once a month.
By: Diana Smith

Watch this video for more landscaping ideas on a budget:
Help Out Home Information Guru by Following Us On: FaceBook, Twitter, & Pintrest