A green roof is one more step for the US to push forward towards environmental sustainability.
Green roofs sprouted up in 2014 with an increase of 30% in the USA alone. If you have a flat roof you should also invest in one, you do not have to have just grass on the top, I have seen people growing flowers and even some types of trees. There are however, things that must be taken into account when thinking of getting a green roof.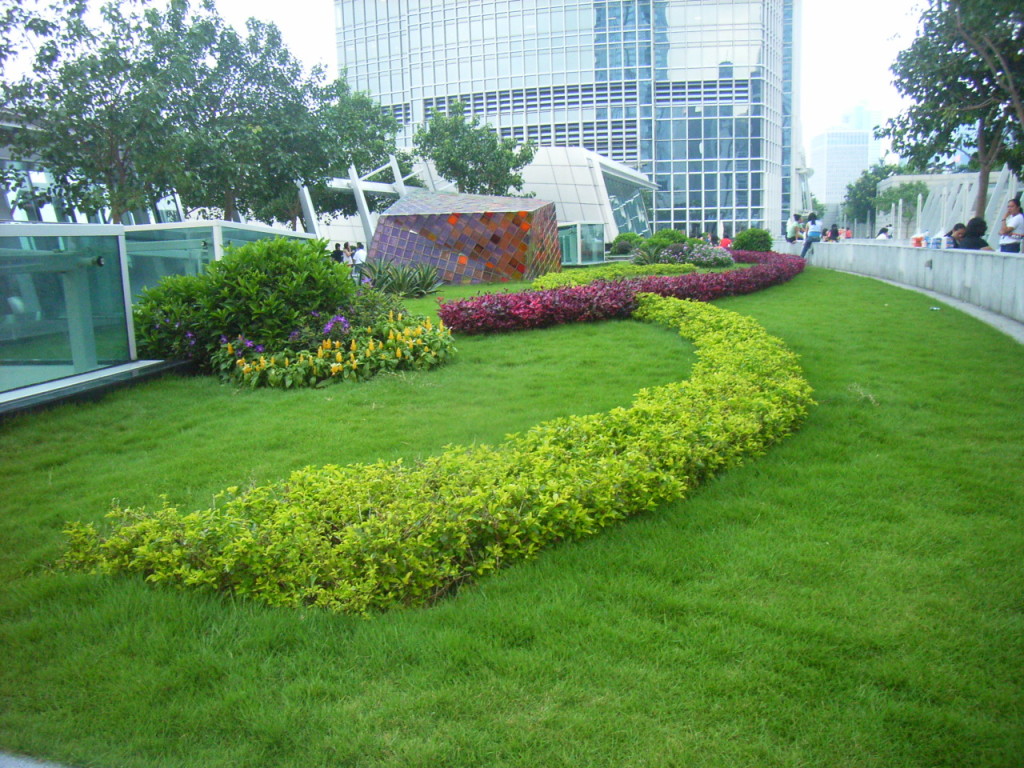 Image Credits
Before Making The Move
There are a lot of things to consider before having a roof garden, you must not only get quotes for pricing but the professionals will also see if your roof can support the weight of the garden, they will check if it can be supported in dry conditions and also in downpours. Most roofs will actually be able to take the weight of this with ease, but still getting a survey will ease up your mind a little bit and prevent nasty accidents.
---
Additional Articles You'll Also Like:
Article: What is Environmentally Friendly Roofing?
Article: New Trend Is Metal Roofing
Article: Fall Time Inspection Of Roofs For Moisture & Water Leaks
---
How Is It Installed?
Well that it a fantastic question and I have provided you with an image below where you can see each of the layers they actually need to install:
As you can see, at least eight layers will need to be installed before the vegetation can start to grow, many of the bottom layers are actually protection layers. The waterproof membrane actually stops water buildup and possible future leaks inside the building. The roof barrier will stop the roots from growing too far down and passing into the other installed payers, there is so much more to this than people actually think!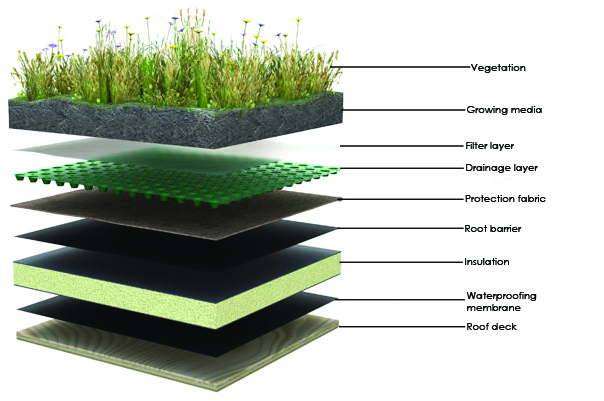 The Biggest
The biggest roof garden was actually completed in New York City and it still is today one of the largest in the country, it was completed in December 2008 and has thrived since. The green roof has actually lived and survived through harsh winters, heavy downpour, heated summers and it still flourishes, despite never been watered, fertilized or weeded!
Though some garden roofs will need the occasional cutting, trimming and weeding just like any other garden, but absolutely nothing than a usual garden requires.
Planning Permission
You do not need to cover all of your roof and have the entire lot green, let's say for example you have a large garage with a big flat roof, you could cover half of it and put other things up there like ornaments such as gnomes. You also do not need to apply for planning permission to have an installation carried out, in fact the government are all for anything green so it goes in your favour. When coming to sell the house as well it may add a quite substantial value onto the sale price.
The Costs
The costs obviously depend upon how large the roof actually is, so many companies and businesses break it down into square foot. The costs start at just $10 per square foot for a simple green roof and can go up to $25 per square foot for a more advanced setup. What are the costs when it comes to saving the planet?
Resources:
US Roofing Specialists
US Environmental Protection Agency
Green Roofing FAQ's
By: Sophie Eagan

Watch this video for more information about a green roof:
Help Out Home Information Guru by Following Us On: FaceBook, Twitter, & Pintrest