Everyone should be able to feel safe in their own home. Here are 5 easy steps to increases your home security today!
Home security does not have to be expensive or difficult to put in place. Many task are commonsense and just overlooked and other items are easy to implement.  Here is a list of areas to focus on and ideas of how to better protect your home and family.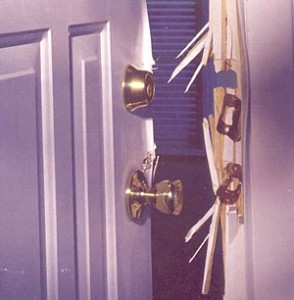 Look around the outside of your home: Take a tour around your home check to make sure your landscaping is not concealing windows and doors. This can make it easy for someone to conceal themselves when trying to break in. Make sure you do not have items stacked near windows to make it easier for someone to climb in. Next, make sure you put way any valuables when they are not in use. If people see items that are valuable they will think that you have many more inside the home also setting you up for thieves.
---
Additional Articles You'll Also Like:
Article: Home Security Cameras For Greater Safety
Article: Reasons You Don't Want to Live Without A Burglar System
Article: General DIY Safety
---
Locking it Tight: Make sure you always

lock your doors

and windows when you leave the house and at night. Install

deadbolt

locks on your entry doors instead of just handle locks. Do not hide a key in your yard. Criminals know to look for a key. Give a extra key to a trusted neighbor instead. Lock your garage door if it does not have a garage door opener.
Light it Up: Turn on your outdoor lights at night time. You can ad a

light sensor

to most outside lights so they turn on automatically when it gets dark. Also outdoor lights can be motion controlled, to turn on when someone gets close.When you are not going to be home make sure to leave a inside light on or

install a timer

on a light to come on when it gets dark.
Add a Deterrence: Post a

beware on dog sign

on or near you home, install security stickers on your doors and windows even if you do not have a security system. Crooks would just rather go some where else.
Wire it up: Adding security devices to your home is probably the best security you can get. It is really easy now a days with wireless systems and camera available inexpensively and locally available.You can find many options at all kinds of different prices at this website;

www.homesecuritystore.com

, If you are interested in do it yourself systems.
If you would prefer to have a security system professionally installed here are some links to a few major alarm companies.
Home Security to keep you safe.
By: Tom Corliss
Help Out Home Information Guru by Following Us On: FaceBook, Twitter, & Pintrest