Cleaning house siding can be an easy DIY property value injection
The home is the most precious thing that you can own, so would like to make it look nice. The house is the first thing people notice as they approach, and how nice or shoddy it is. You want to keep it nice and be proud of it, you want hints and tricks on upkeep of your siding on the house.
---
Additional Articles You'll Also Like:
Article: Understanding the Basics of Vinyl Siding Installation
Article: Is Fiber Cement Siding Right For Your Home
Article: Cleaning Your Home's Exterior
---
To clean vinyl siding and make it stand out, you just have to do a few simple things to have it look awesome. Just get a bucket of hot water and soap, and a large brush or sponge. You will start at the bottom of the vinyl and progress up. If you want to cut some corners and make things easier, just use a power washer with soap in it and spray down the vinyl siding. This will make everything look brand new when you are done.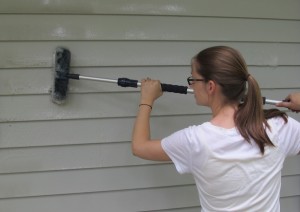 When your house has bricks on the exterior, there is a different way to clean this siding. Bricks last a long time, but still get dirty with the air, rust, mildew and stuff leftover from plants. You will take a medium bristled brush with hot water and start the tedious scrubbing to clean the surface of them. Do not use a power washer ever, those can actually flake away and split the bricks.
When you are getting ready to paint the exterior siding of the house, keep in mind a few things you need to do to prepare it. If your exterior siding is made of wood, you will need to scrape off all the previous paint or stain. To do this correct you should use a wire brush and clean off the surface by brushing it. If you don't do this correct, over time water can get in behind this a cause the paint to bubble up.
When you are treating the surface of the wood, you also want to caulk any cracks or holes you see. Just use a simple caulking gun with outdoor silicon to fill any of the holes or gaps on the wood. This will help prevent water from getting into and behind this which could potentially rot out the boards.
So, your project includes painting on aluminum exterior, you need to prepare the surface similar to wood. You will need to sand the existing paint and create a smooth finish on the surface of the metal. A nice trick with this is to use car body patch and fill any hole or dents with it.
When you are preparing the surface of aluminum, you will carefully sand over the surface with a rotary sander. If you used the body patch, you can sand that excess down flat along the surface of the metal. If there are problems and defects with the original paint, sanding it over will smooth out all the issues and make the new coat look good.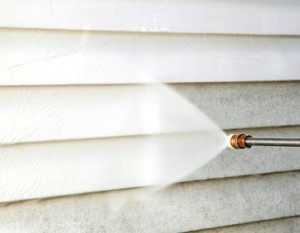 If you plan to make your house stand out and look great, you want to do a few things. You need some hints and tricks on upkeep of your siding on the house. Doing these simple things can it really make it look new and have that great curb appeal.
Are you looking to construct, renovate or simply enhance the look of your home? Our company carries Siding Ottawa, Ottawa Eavestrough, Gouttiere Ottawa and more for your renovation needs. Maize Siding & Eavestroughing 2537 Rollin Road, Saint-Pascal-Baylon
By: Andrea Norton
Help Out Home Information Guru by Following Us On: FaceBook, Twitter, & Pintrest
Watch this video about cleaning vinyl siding: