Laminate Flooring is a great money-saving flooring alternative
When most people decide that they are going to get a new floor for their homes,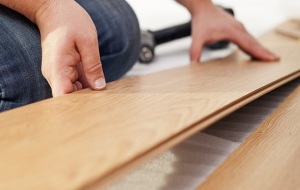 they are usually ready for the expense of the flooring itself. What they are less prepared for is the cost of having the floor installed. Depending on the type of flooring you decide to go with, and the size of the room that you are going to have the flooring installed in, you could easily find yourself spending a couple of thousand dollars on installation fees alone.
Just because you are on a budget, it doesn't mean that you can't have a very nice looking floor installed in your home. One of the more budget friendly types of floors that you are going to find is laminate flooring. This type of flooring is designed to look a lot like traditional hardwood flooring, but it is considerably more affordable.
---
Additional Articles You'll Also Like:
Article: Taking Care Of Your Expensive Hardwood Floor
Article: Cork Flooring Is A Popular Choice For All Seasons
Article: How to Clean Your Laminate Flooring
---
One of the great things about laminate flooring is that unlike carpeting and hardwood flooring it is something that you can turn into a do it yourself project. Most laminate flooring is designed in such a way that the individual "planks" can be snapped together. The fact that you can install the laminate flooring yourself is a great way to eliminate the laminate floor installation cost.
Just because you can install the laminate floor yourself, doesn't necessarily mean that you should. There are some factors that you should consider. The first is that while the pieces are designed to snap together, they don't always go together easily. Another thing you need to think about is how quickly you want to get the project done. It is not at all unusual to find that when you decide to cut laminate floor installation cost by installing the flooring yourself, that the laminate flooring spends years sitting in your garage before you actually get around to getting the flooring done, or worse, that the floor gets installed half way. Some people have decided that budgeting for laminate floor installation cost and having the job done by a professional they end up getting things done much more quickly and are usually a great deal happier with the final results.
Another thing that you need to consider when you are debating whether or not you should eliminate laminate floor installation cost by installing the flooring yourself is that there is a little more to the project than just snapping the individual pieces of laminate together. In addition to the actual flooring going down, you are also going to have to have a layer of polyethylene moisture barrier spread over the concrete before the new flooring can be installed.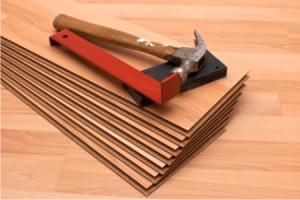 If you are worried that installing the laminate flooring is going to be a bigger project than you are ready to handle, but are also worried that the laminate floor installation cost is going to be out of your reach, you should speak to the retailer who you are purchasing the laminate flooring from. There is a good chance that if you are willing to do some of the work yourself, that they will be able to come up with some shortcuts that will help you keep your flooring affordable.
Ginger Jackson is an expert when it comes to Flooring. To find out more about Flooring Installation, go to SearsHomeServices.com.
By: Theresa Walter
Watch this video for tips on Laminate Floor Installation:
Help Out Home Information Guru by Following Us On: FaceBook, Twitter, & Pintrest