Here are a few cheap methods for renewing your worn kitchen cabinets
If your kitchen cabinets are looking dated, worn or drab, stripping and refinishing is one option, but it's a pretty tough way to go. Stripping and refinishing your cabinets involves a lot of elbow grease, mainly to remove the old finish. A stripping product must be applied and allowed to penetrate, and then the old varnish is laboriously scraped off before the cabinets can be thoroughly cleaned. If you have a lot of cabinets, you can be looking at a major time-consuming job. Before you take on a project of that magnitude, read on for some simpler ideas to give your tired old cabinets a fresh new look.
---
Additional Articles You'll Also Like:
Article: Kitchen Remodeling Secrets on the Cheap
Article: Painting Your Ugly Kitchen Cabinets
Article: Starting A House Renovation Project? Here Are 5 Helpful Points
---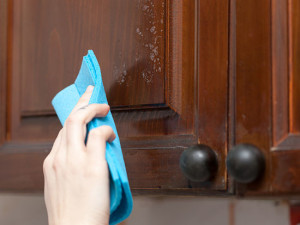 Fix #1: A Good Thorough Cleaning
If your cabinets are looking worn and dirty, a thorough cleaning may be all that's needed to refresh them back to their former glory. If your cabinets have an enamel or lacquered finish, a spray-on de-greaser can wipe away layers of grease and grime. On stained or varnished wood cabinets, soaps formulated specifically for use on wood, such as Murphy's Oil Soap™, do a good job of wiping away dirt and grease. A homemade solution of vinegar and water will effectively degrease wood cabinets without damaging the finish. When in doubt, try any cleaner first on an inconspicuous area. Never use abrasive cleaners, like cleanser or scouring pads, as they will scratch the finish.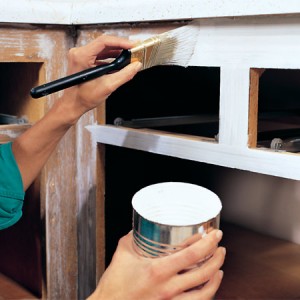 Fix #2: Clean Fresh Paint
If cleaning your cabinets didn't do the job, your next option is to paint them. Since your cabinets are now good and clean, remove all the hardware and remove the cabinet doors and drawers. Lightly sand all surfaces with fine grade sandpaper and wipe away all dust residue with a clean, damp cloth. Apply a layer of grease and stain blocking primer, let dry and paint the cabinets with your fresh new color. Paint the doors on top of a work table or saw horse and let them dry while you paint the cabinet faces. You can use paint to totally change the style of your kitchen: Whether you choose to paint your cabinets in a modern neutral shade or create a shabby chic look with a distressed finish, paint and faux painting techniques can transform your kitchen cabinets.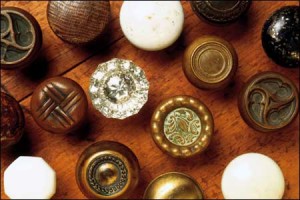 Fix #3: Add High Style with New Hardware
Just as jewelry and accessories can turn a plain outfit into a knockout, new stylish hardware can make a big difference in the appearance of your cabinets. Especially if you've painted your cabinets in a new color, the old hardware can undo the visual uplift of the paint and make the cabinets seem dated again. From brushed nickel bin pulls or jewel toned glass knobs; whimsical designs fashioned to look like geckos or turtles,; to modern flat stainless steel handles, new hardware will bring sparkle, interest and detail to your kitchen. When shopping for new hardware, take samples of your old hardware so that you can choose hardware with the same screw hold layout. By choosing the same spacing and layout, you won't have to drill new holes or fill and sand old ones.
Metal-Wall-Art.com senior staff writer, Alyssa Davis, specializes in designing with green metal wall hangings and purple metal wall hangings.source: Isnare.com
By: Alyssa Davis
Help Out Home Information Guru by Following Us On: FaceBook, Twitter, & Pintrest