Basement waterproofing is the very first step for a finished living space
No one wants to walk down to their basement and find it damp or worse, flooded with water.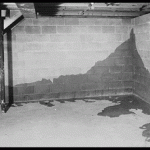 Aside from the annoyance and inconvenience, a wet basement can lead to serious consequences such as health problems caused by the growth of mold and mildew. These fungi can worsen asthma, trigger allergies, and set off respiratory infections. Damp or wet basements also raise doubts about the structural soundness of a home. Water from basements can seep into the walls of a house and weaken its foundations, and consequently reduce its overall value. You can prevent this from happening by keeping water from entering your basement through a process called basement waterproofing. 
---
Additional Articles You'll Also Like:
Article: Dealing With A Flooded Basement
Article: Basement Finishing Ideas For DIY Enthusiasts
Article: Build It Better. Best Home Improvements Hints And Tips
---
Basement waterproofing involves a variety of techniques depending on what is causing water intrusion into your basement or how severe the problem is. Before it gets serious, however, there are six simple actions you can take to keep your basement dry:
Basement Waterproofing Step #1:
Check your basement and the perimeter of your house to see where water is entering your home. If you are able to identify the source of the moisture, you may find that you only need to implement simple measures to resolve the problem.
Basement Waterproofing Step #2:
Make sure that the ground slopes away at least 10 feet from the outside foundation of your home. This will keep water from rain or melting snow from draining down against basement walls.
Basement Waterproofing Step #3:
Ensure that your gutters and downspouts are in good condition and are keeping water away from the foundation as well as from the siding of the house. Make sure your gutters are always clean and the downspouts are releasing water at least five feet away from the foundation.
Basement Waterproofing Step #4:
In addition, shrubs and other plants should be at least 12 inches away and on a slope from the foundation. Trim plants regularly to allow for faster water evaporation. A dense shrubbery can result to water accumulation in the basement.
Basement Waterproofing Step #5:
Install a dehumidifier or jet fans to decrease the humidity in and ventilate your basement properly. Make sure your dehumidifier comes with a direct drain-off hose and is of a high efficiency rating to save on energy.
Basement Waterproofing Step #6:
Check basement walls regularly for cracks or gaps. Small, interior cracks can be filled with waterproof compounds that can be bought from your local hardware. This will help slow down the flow of water into your basement.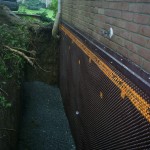 You can also apply waterproof paint after sealing all the cracks in your basement walls. Waterproof paint cannot keep water out, but it can prevent the other bad effects that a damp basement causes.
If the above techniques do not work to keep your basement water-free, then consider consulting with a reputable basement waterproofing professional.
While doing so may mean additional costs, an expert can offer solutions that are long-lasting and permanent. This way, you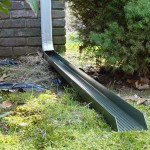 can ensure that your basement stays dry and that it can be the kind of space you can enjoy for recreation, relaxation, work, exercise, or whatever use you wish it to have.
No one wants to walk down their basement and find it damp or worse, flooded with water. Aside from the annoyance and inconvenience, a wet basement can lead to serious consequences such as health problems caused by the growth of mold and mildew…
By: Jason Lom
Help Out Home Information Guru by Following Us On: FaceBook, Twitter, & Pintrest