Don't end up in the emergency room! How to use Ladders Safely!
Man! What a great day to patch that loose shingle at the base of the chimney. Sun's out, not a cloud in the sky, light breeze, high of 87 degrees. Mick took the ladder from the garage, removed his shirt, and shooed Carol shopping.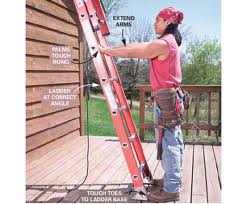 Five minutes after she was gone, he knocked the ladder to the ground. Let's see. The wife and kids are gone. The neighbors are on vacation. Mick lives on a street where there is little traffic.
Mick sat on the roof for four hours, which gave him plenty of time to fix the shingle, and get so badly blistered from the sun that he missed two days work.
---
Additional Articles You'll Also Like:
Article: Stay Safe as You Complete Your DIY Projects
Article: How to Use A Hand Tools Safely
Article: General Do It Yourself Safety
---
Annually, there are approximately 200,000 injuries associated with ladders. Most   incidents with ladders are caused by a loss of balance, or by a ladder's being placed on a slippery surface. Others are caused by sheer foolishness. Almost all accidents with ladders could have been avoided.
Before You Climb
* For any project involving a straight ladder, consider hiring a professional.
* Choose the proper ladder for the job. Wood and fiberglass ladders are best for working around electrical sources, although any type of ladder can conduct electricity if wet.
* Before climbing a ladder, check it thoroughly to be sure it's safe. Look for missing, damaged or loose parts. Be sure the nonslip feet aren't worn. If there is a problem, get a new ladder. Repairing a damaged ladder is taking a risk.
* Verify the weight capacity, and include tools you carry in your calculation.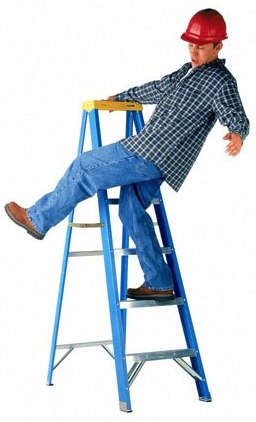 * Indoors or outside, place ladders on a firm, solid surface. If you must put the ladder on a soft surface, place a board under the ladder's feet to provide firm footing.
* Always have a person steady ladders on windy days or if there's a question about the ladder's stability.
* When using  extension ladders outside, place the ladder about one-fourth of the length of the ladder away from the wall. For a quick estimate, place your toes against the ladder feet. Stand erect and extend your arms straight out. The palms of your hands should rest on the base section rung nearest to shoulder level.
* Wear clean, dry, slip-resistant shoes, and be sure the rungs of the ladder are dry.
* If you use a ladder in front of a door, lock the door and barricade the other side.
* Never use a folded-up stepladder as a straight ladder. The feet won't be square on the ground, and the ladder may slip.
* Never lean ladders against a window pane or other unstable surface.
* Do not climb a ladder if you have been using alcohol, have balance problems, are subject to fainting spells, are using medicine, or are physically handicapped.
* Do not paint a wood ladder.
* Arrange for someone to check on you periodically.
Avoiding A Crash Landing
* Never climb with equipment in your hands. Use your pockets, an equipment belt, a tool pouch, or raise heavy objects with a hand line.
* For added stability, tie the top of ladders to a support, or use special devices available from your hardware store.
* To climb or descend, face the ladder and grip the rungs firmly with both hands.
* Keep your body between the rails at all times, and never reach or lean too far to the side. Rule of thumb: Your belt buckle should never extend outside the ladder rail.
* Hold on to ladders with one hand. If you must use both hands, put one leg around a rung.
* If you need to shift to a new position, climb down and reposition the ladder. Don't try to shift the position while standing on the ladder.
* On a straight or extension ladder, don't climb higher than the fourth rung from the top. On a stepladder, don't climb higher than the second rung from the top.
* Be sure the ladder extends 3-5 feet above the edge when climbing onto a roof. This added length is needed to step safely onto the roof. Do not climb the ladder above the roof top.
* When moving metal ladders, lower it to avoid touching a power line. Better yet, never place a ladder where it could slide into power lines. Give them a wide berth.
* Descend immediately if high winds or rain begin.
Annually, there are approximately 200,000 injuries associated with ladders. Most ladder incidents are caused by a loss of balance, or by a ladder's being placed on a slippery surface. Others are caused by sheer foolishness. Almost all of them could have been avoided.
John Myre is the author of the award-winning book, Live Safely in a Dangerous World, and the publisher of the Safety Times Reproducible Articles..
Make sure you know how to use a ladder safely!
By: John Myre
Watch this video on how to use ladders safely:
Help Out Home Information Guru by Following Us On: FaceBook, Twitter, & Pintrest