Laminate flooring is quick and easy to clean
Before you buy any products or jump straight into your cleaning your laminated floor, you should check with your manufacturer to get a better understanding of the material your floor is made from and what can and can't be used or done to it. If you use a cleaner that is too strong, for example, you could damage your floor.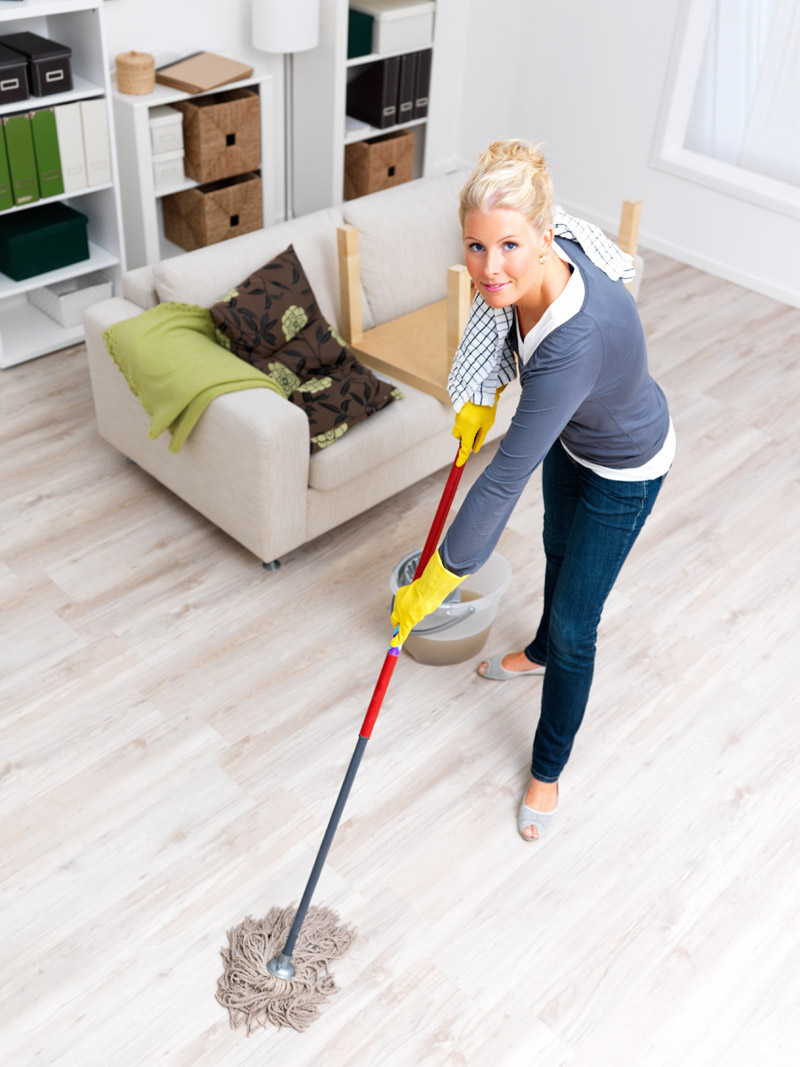 Here are a few general tips to clean most laminate floors:
You will need:
   Mop bucket
  Sponge mop
  Sweeping brush
  Vacuum cleaner (with a specialised attachment)
  Laminate floor cleaner
   Hot water
What to do:
1. Sweep the laminate floors to remove all dirt and dust.
2. Vacuum the floor using the specialised attachment.
3. Read the instructions for using the laminate floor cleaner, you will most likely need to mix the cleaner with the hot water in a mop bucket. Mop the floor in the direction of the grain.
4. Rinse the mop as you wipe the various areas of the floor.  Unless the laminate floor cleaner specifies that you should, there is no need to rinse the floor with water to remove traces of the floor cleaner.
5. Allow to air dry.
---
Additional Articles You'll Also Like:
Article: Some Tips for Regular Cleaning
Article: How to Clean Paint Out of Carpets
Article: Cleaning the Windows
---
Some stains, however, are stubborn, and cannot be removed by using this method alone.  Here are some of the stains that you may come across and how to best deal with them:
Blood:

using window cleaner and a damp cloth, wipe the stain, avoid putting too much liquids onto the laminate flooring in one go as this could damage it.
Alcohol stains: mix some warm water and detergent together and use this to rub the spot

clean

, if the stain is stubborn, try using denatured alcohol instead of the water and detergent.
Grease: get some ice, an ice pack or a pack of frozen vegetables will do, apply this to the stain until the grease has hardened. Scrape away the grease with a plastic spoon or knife and use window cleaner and a clean cloth to wipe the area completely clean.
Crayons: apply some spirits to a soft cloth and rub clean, alternatively apply toothpaste to the stain and wipe away with a cloth.
Nail Varnish: Check with your manufacturer to see what exactly you can use on your floor, varnish remover may be too strong therefore you may need some sort of scouring powder.  Use a scouring pad to clean the area but avoid rubbing too hard as this may scratch the surface.
Ink: mix warm water and detergent and use this to remove the ink, if this doesn't work you may need to hire an experienced cleaner.
Shoe marks: Use a pencil rubber to erase the marks.
Chewing gum: remove the chewing gum with a knife, taking care not to scratch the surface, and

clean

the floor with spirits.  If the gum is difficult to remove, try freezing it first.
If you want to protect the environment, while also saving a little money, why not try to make your own floor cleaner, all you need to do is mix half a cup of white vinegar in with a gallon of water, this will clean away all dirt and leave a streak free finish to your floor.  Alternatively, there are a number of environmentally friendly floor cleaners that you can buy from the supermarket, these may be slightly more expensive than normal cleaners, however, they can usually be used on more things cutting down on the variety of products you need to buy, furthermore, green clean products are stronger and therefore you don't need to use as much.
Bio: Cindy Davis is writer and freelancer. She has great passion for cleaning and desinfection matters, as it is of great importance of her family's health to always keep their home clean and sanitized. Here you may find some more related helpful information:http://www.londoncleaners.co.uk/end-of-tenancy-cleaning/
Help Out Home Information Guru by Following Us On: FaceBook, Twitter, & Pintrest
Watch this video about how to clean a laminate floor: