Home lighting is an easy option for updating a home
Have you ever felt your home lacked something?
You've bought the stylish furniture, laid down cool carpets, got your walls the perfect colour but still you feel there's something missing. If so, chances are the problem's with your lights. Lighting plays a key role in the ambiance of our homes by setting mood and enhancing the furniture and decor, not to mention ensuring safety and efficiency in both work and play. Here's your guide to getting your home lighting right.
The first thing to do is to determine what type of lighting you want for each room. You have three main types of lighting to consider for home lighting – ambient, task and accent. Ambient is the overall lighting that works in the same way as natural light to make our rooms functional. Task illumination allows you to carry out activities such as reading and cooking. Accent lights are set up to bring out the beauty of certainty objects or areas.
---
Additional Articles You'll Also Like:
Article: Decorating Ideas using Wall Mirrors
Article: Foyer Decoration Tips
Article: 3 Terrific Home Decorating Ideas On Any Budget
---
So where do you begin with home lighting? Firstly, you have to consider the big picture when looking to light a room. You should consider the amount and direction of natural illumination, the number of electrical outlets, as well as the placement of the furniture. Let's look at each of the rooms in turn.
The living room is one of the most important rooms in the house. It's where you relax by watching TV or your home entertainment system, read, hold family gatherings and also entertain guests. So you really need lighting that promotes a relaxing atmosphere as well as making the room look its best.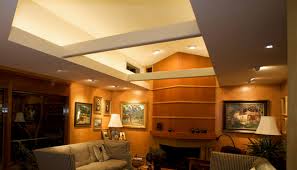 One idea is to install recessed lights on the ceiling and up lights on the floor or walls to create a soft yet effective luminescence. Uplight beams that don't reach the ceiling evoke an especially cozy mood. You can augment this with extra table or floor lamps for such tasks as reading or sewing and add a track-light to provide versatile accent lighting for the special items or zones you wish to highlight. Fixing sconces at strategic spots such as around the fireplace adds a nice decorative touch. Compared to the single, harsh ceiling light that many homes have in their living rooms, this setup will be a revelation. You can also make good use of dimmers to adjust illumination when watching films, for example.
For the dining room, you'll want a relaxing light yet strong enough to eat comfortably. One nice choice is to use dimmable chandeliers. You can adjust the lighting down for a romantic dinner or make it brighter for when you have guests, for example.
As for the kitchen, fluorescent lighting is traditional as it provides the strong light you need for such tasks as food preparation and cooking. However, modern homes are now employing more sophisticated lighting setups that both provide the bright light needed to cook and are also stylish and relaxing. The idea is to focus the illumination on the work-spaces while leaving other areas bathed in a more relaxing ambient light. This can be done through the use of spotlights and track-lights as well as having pendant lights hanging over the food preparation area.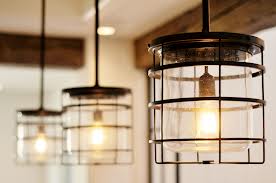 Bathroom lighting is more about lighting you than the room. This means choosing incandescent rather than fluorescent bulbs as the latter tend to give people a greenish tinge. A strip above the mirror can provide ambient light and wall lights can add a nice touch along with indirect cove lighting. Vanity lighting on each side of the mirror can also create a nice illumination for making yourself look good. One trend in modern bathrooms is to install floodlights in the shower stall.
Finally, we'll look at lighting in the bedroom. Here you'll want a relaxing atmosphere coupled with proper task lighting for reading. The overall illumination in a bedroom can come from floor lamps in the corners and ceiling mounted floodlights. If your bedroom has a sitting area, then you could put reading lamps next to the chairs. Should you prefer to read in bed, then swing lamps are perfect as they allow you to focus the light on the book and not disturb your partner.
When it comes to lighting your home, you should never forget the safety factor. For one thing, you need to make sure your hallways and stairways are always properly lit. Also bad lighting can result in eyestrain and headaches.
You can find complete details of home lighting at the web sites of online vendors. You can choose what suits your home and then get ready to transform your home. And by buying your lighting wholesale, you can get the best deals.
Kathryn Dawson writes articles for Lite Craft, a leading distributor of a huge range of home lighting in the UK. Get your lighting wholesale at the lowest prices; explore bathroom lighting, lamp shades and many more. Browse through a selection of chandeliers available for that instant touch of luxury.
By: Kathryn Dawson
Help Home Information Guru out by Following Us On: FaceBook, Twitter, & Pintrest