This is a guest post from our friends at

Rhino Gutter Guard

. Please visit their website and check out the great products.
Let's face the fact! It's the buyer's market and owing to the present market downfall, it has become trickiest than ever to manage a generous resale amount for the house. With the real estate competition fiercer than ever, your house should be the prettiest and cheapest bargain in the neighborhood as after all, the amount of attraction your house gets would be directly reflected in number of buyers for your house.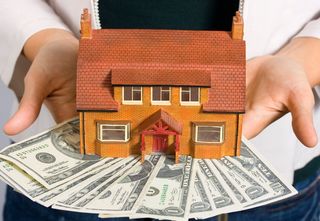 First and for mostly, your house should be in a moving condition. The last thing buyers want is to be engaged with a list of house hold chores like cleaning and restructuring upon shifting to new home.
---
Additional Articles You'll Also Like:
Article: Sell Your Home Fast: Top Cosmetic Fixes
Article: Starting A House Renovation Project? Here Are 5 Helpful Points
Article: Remodeling Projects That Add Value
---
Similarly, make the following alterations in your house to get a higher resale value:
Boost Your Resale Value Tip #1 – Update exteriors:
This is one of the most cost effective and beneficial techniques to increase your resale value. Buyers would form the first impression about your house within 5 seconds and your house exteriors would be the first thing that they'll look at. So, modify exteriors and make it more users friendly. You can either repaint the exteriors with subtle colors or add one or two furniture items in front yard which will make the area look spacious.
Boost Your Resale Value Tip #2 – Windows and doors:
Replacing broken windows and polishing old doors can play a major role in making home look fresh, clean and stylish. In addition, it also saves the additional heating or cooling cost which would be greatly appreciated by the potential buyers. Clean the rest of the windows would also prove to be beneficial. Saving people money in the future will increase your resale value today.
Boost Your Resale Value Tip #3 – Flooring:
A house with shiny and polished flooring gives a great first impression. Thus, make sure it is clean and presentable. Wooden floors leave a better impression than the carpeted ones and do not contain any odor. And if you have carpeted flooring then make sure to clean all the stains or markings.
Boost Your Resale Value Tip #4 – Kitchen:
Most of the buyers look for spacious and comfortable kitchen in houses. So if your kitchen is out of date or needs some restructuring, then make sure to do the required changes before putting it up for resale. In addition, you kitchen needs to look just as good as your neighbors. So, if they do have granite tops, you do not need to install them either.
Boost Your Resale Value Tip #5 – Roof:
Though it is one of the most neglected parts of the house, it is thoroughly checked by the potential buyers. Thus, if it needs some restructuring, get it done. In addition, you can also replace the essentials such as Gutter Cover, which wear out easily. This would not only be a cost effective option but would also keep the roof sides clean which is indeed beneficial in giving a cleaner look to the house.
Boost Your Resale Value Tip #6 – Bathrooms:
If you can afford updating tiles, sinks etc then it would be the best to go for it. But if you cannot, then pay attention to minute details such as cleaning of the bathroom which can hide other minor faults. You can also reinstall shower screens as they'll be comparatively cheaper to buy and install.
Any combination of these above tips will incense the resale value of your home. In today's market this is a necessity.
Author-Bio:- Carl Watson, working as a content strategist for http://www.rhinogutterguard.com/ which is pioneer in providing Gutter guard and Gutter protection system in Richmond VA. They provide full Gutter cover facility to take the heaviest of rains.
Watch this video for more tips about how to increase your resale value:
Help Out Home Information Guru by Following Us On: FaceBook, Twitter, & Pintrest