Cover up that ugly old tub with bathtub liners
What are bathtub liners?
They are simply thin coverings that are installed over your bathtub. They are perfect for transforming an old bathtub and making it look brand new. Installing a new bathtub liner is perhaps the quickest way for you to remodel your bathtub and give your bathroom a fresh new look. But, before you go out and buy a new liner for your bathtub, here are some tips and information that you will need to keep in mind.
Remember that  bathtub liners will effectively freshen up your old bathtub and perhaps cover up its unsightly appearance, but it will not fix any problems with the bathtub itself. If there are leaks or other major problems with your bathtub, these will have to be fixed properly rather than simply covered with a liner. Bathtub liners are perfect for bathtubs that are marred with stains and scratches, but are generally still in good working condition.
In general, bathtub liners can be made out of either of two materials – PVC or acrylic. The more popular choice of bathtub lining material is acrylic, primarily because it is considered to be more attractive and durable than PVC. Acrylic liners are also resistant to common damages caused by regular bathtub use and are a lot easier to clean and maintain. They come in several different colors and styles, so you are sure to find one that will be perfect for a quick makeover of your bathroom.
---
Additional Articles You'll Also Like:
Article: Bathroom Caulking Key to Preventing Premature Shower, Tub, Tile and Sink Damage
Article: Bathroom Renovation Tips That Make a Difference
Article: Stylish Shower Doors To make Your Bathroom Look Great
---
Bathtub liners can be a much better solution for remodelling a bathroom than a replacement bathtub, especially when time and budget are of major concern. They are not only quicker to install than a bathtub, but are of course a whole lot cheaper. It is best to replace your bathtub only when it is no longer working properly and the estimated cost of repairs is almost as much as the cost of a new bathtub.
One important point of consideration is the fact that  bathtub liners are installed by being glued to the bathtub with industrial strength glue. This means that liners cannot be easily removed, so when you need to replace it, it has to be cut out, a process which can potentially damage the bathtub's surface even more. Therefore, it is a good idea to install  bathtub liners only on bathtubs that are seriously marred. If your bathtub only has minimal surface damage, having it refinished would be a much more practical option. Refinishing means that a special coating will be painted on the surface of your bathtub. It is much cheaper than buying a liner.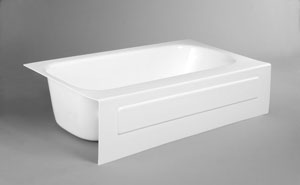 Finally, remember to always have a liner installed by a licensed plumber so as to ensure proper installation. Bathtub liners that have not been properly installed can leak, thus allowing water to seep between the liner and the tub. This can lead to molding and eventually to the displacement of the liner. Bathtub Liners can also crack when installed improperly. Aside from ensuring proper installation, a licensed plumber can also help you evaluate if installing a liner is indeed the best option that will address your bathroom remodeling needs.
I am very much into interior design, fashion, and fitness. My latest articles are about the oval shower rod and bathtub liners. Stop by sometime if you would like to read them.
Posted By: Tiffany Jones
Watch this video about bathtub liners:
Help Out Home Information Guru by Following Us On: FaceBook, Twitter, & Pintrest