Bathroom caulking maintenance is a homeowner must-do
Caulking your bathtub, tile shower or sink may be a hassle. But trust me, it's much easier and less expensive than spending thousands on mold and water damage repairs in your bathroom.
---
Additional Articles You'll Also Like:
Article: Three Easy Ways To Really Clean A Shower Head
Article: How To Save Money On Home Repairs
Article: Do I Have A Sewer Drain Clog?
---
Failed bathroom Caulking causes mold and water damage. The Bathroom caulking contribution to mold and water damage in your bathroom is usually a result of one of two failures. Understanding these two failures will help you take the appropriate action to avoid an expensive home repair to your bathroom.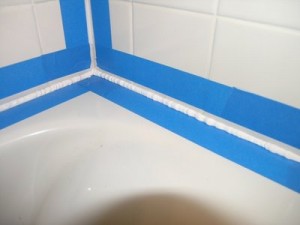 First, is the failure of old caulking that needs to be replaced with newer, more advanced products. Maintaining your shower, sink, tub and counter top caulking is a critical home maintenance task, as caulking typically has a lifespan of no more than 10 years.
Second, and more common, is the failure to use the correct type of caulking designed specifically for bathrooms. Vinyl and latex-based products are often incorrectly used in bathrooms because they are inexpensive and readily available. But they aren't nearly as flexible, durable, or waterproof as silicone based caulking. In almost all instances, you should use a silicone-based bathroom caulking for showers, tubs, sinks and any other fixture in the bathroom.
You Might Need to Caulk Your Bathroom If…
* If you see mold or discoloration along the sealant
* The caulk shows signs of cracking
* Any section of caulk is missing or damaged
* Any part of the bead of caulk no longer adheres to the surface
Taking action quickly of you note any of these signs will prevent water damage from water intrusion behind the gaps and seams in your fixtures.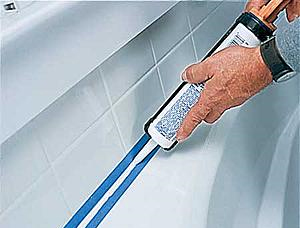 What type of bathroom caulk should I Purchase? There are many great brands of silicone-based bathroom caulk on the market today. I prefer GE products, but many are similar in price and quality. You will want to make sure to use silicone caulking that is water and mold resistant and rated for bathroom use.
Silicone bathroom caulking comes in a variety of colors to choose from, including clear, to match your decor. You can even find "grouted" shower caulks sold at tile supply stores that are designed to match perfectly to an associated tile grout. In either case, use a caulking that is less noticeable and blends well with your bathroom's surroundings, as it will provide a more professional and pleasing appearance.
A typical tube of silicone-based bathroom caulk costs around five dollars. In addition to caulk, you are will also need a caulking gun which will run you about another five dollars. $10 and a few hours of your time is a small price to pay to save you thousands of dollars in future repairs!
Follow these steps to properly caulk your sink, shower or tub:
1. To apply a new bead of caulk, you must first remove the existing caulk. You can use a screwdriver or plastic putty knife; anything that will get in the crack and remove the scraps.
2.After you remove the caulk, rub the area with isopropyl alcohol to get a clean workspace. Cleaning the crevice to be caulked with alcohol is essential to obtain a proper bond between the new caulk and the surface.
3. Next, tape off the area to avoid getting caulk in places where you don't want it. In addition, it will give you a sharp bead of caulk like the professionals do.
4.Then apply the caulk with the gun starting closest to your body and working away. This will help push the caulk further into the joint.
5. After you apply the caulk, use your finger to smooth and compress the caulk and remove the tape before the caulk begins to dry.
6. Finally clean up any mess you may have made and allow the caulk to dry. Silicone caulk takes anywhere from 3 to 24 hours to dry, so plan accordingly.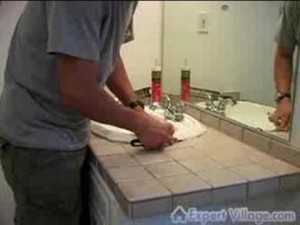 ProMaster Home Repair & Handyman of Cincinnati Cincinnati's On-time & Family Friendly Home Repair & Remodeling Professionsals. 513-724-0539
 By: Handyman Cincinnati
For a much more detailed look from start to finish of How to recaulk a bathtub with full pitcures look at this post:
Dover Projects: How to Caulk a Bathtub
Help Out Home Information Guru by Following Us On: FaceBook, Twitter, & Pintrest
Watch this video about bathroom caulking: