Dorm Living: Room Organizing Products
Dorm living can be organized and comfortable with a little per-planning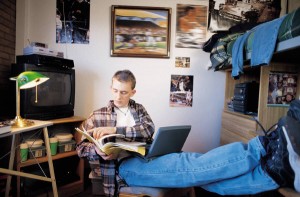 My youngest is going off to college next week. I've sent two other kids to college before, but I've never been as nervous as I am now. Now, Joey isn't the tidiest person, which is why I'm so worried about his adjustment from living at home to living in a dorm room with another person. Joey's the most independent and out-going person out of all my kids, but he's just naturally messy. My family and I like to joke around and say that Joey should come with a warning label for all potential roommates, but of course, we all love him and can't imagine him being any other way. That's why it's so important for me to prepare his dorm room with organizing products.
---
Additonal Articles You'll Also Like:
Article: Big Solutions for tiny dorm room spaces
Article: College Housing – Top Four Tips for Dorm Room Safety
Article: Supplies Like Lockers Needed For A Dorm Room
---
The biggest problem new college freshman have is adjusting the small space of dorm rooms, not to mention sharing that small amount of space with another person. They go from sharing a room with a sibling or having their own room, to a small space with a stranger, of course the adjustment is difficult. In order to maximize the amount of space available, I've gotten everything from bed risers to closet shoe organizers. Back to school season is a great time to find great deals for organizing dorms or even organizing your home.
In the past, my husband and I have done our best to equip our kids with virtually everything they need to lead productive lives while in school and we've found that the best way to do this is for them to be in organized environment and space.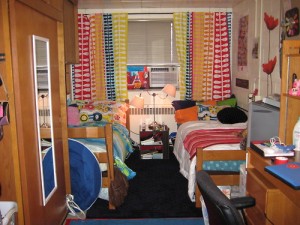 Some great and simple ways to this is with dorm organizing products. Optimizing spaces that we don't normally use in the home is a great way for extra storage space. Over the door hangers, drawer-organizing cubbies, and under the bed boxes will increase the amount of space using in an organized manner and not on the floor, as Joey strongly believes.
Over the door hooks—a great place for coats, jackets, bathrobes, etc. for clothes that are worn or used daily for easy access
Under the bed compartments—seasonal clothing, shoes, school supplies (paper, binders, etc.) can be stored under the bed, great space savers!
Drawer organizers—keep socks and under garments stored neatly to avoid using one entire drawer for smaller articles of clothing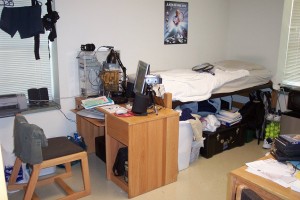 In-closet hanging storage—Keep dress suits, accessories, sweaters, and even shoes for convenience and accessibility
Baskets and bins—baskets and bins work great for giving miscellaneous items in a specific place (magazines, toys, cleaning supplies) for the home and dorm room. In particular, foldable fabric baskets are ideal for dorm rooms because they can be stored away when not in use.
Purchasing various organizing products will help put my mind at ease when Joey leaves for college, I hope yours will be too if your "little one" is leaving for college this upcoming fall.
Sending a child off to college is overwhelming, prepare yourself and your new college freshman with organizing products.
www.Holdnstorage.com, the #1 retailer online for closet organizer systems. From closet hangers, closet organizer systems, laundry sorter hamper, wicker laundry hamper to everything organize!
by: Mark Etinger
Watch this video for more dorm room organizing ideas:
Help Out Home Information Guru by Following Us On: FaceBook, Twitter, & Pintrest